Galata Business Angels
Galata Business Angels is Istanbul's premier angel investor organization. GBA is a formal group of executives, entrepreneurs and angel investors who are interested in investing their time and money into new, cutting edge, startup companies. GBA members have founded companies such as AirTies, Yemeksepeti.com, Mynet.com, and Markafoni.com and been senior executives at the likes of Apple, eBay, Maxim, Turkcell and DBI.
Ferhan and Jim Cook were the founding members of Galata Business Angels. Ferhan remains an active member, she specializes in mentoring start-ups and identifing promising entrepreneurs for angel investment.
For more information, see
the GBA website
.
Social Entrepreneurship: m-Spark.org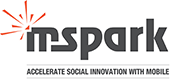 m-Spark is a social enterprise that helps social entrepreneurs achieve larger and more rapid impact with their projects. m-Spark supports mobile-powered social entrepreneurship, and leverages the power of mobile and internet to change lives in rural and low-resource regions.
m-Spark accelerates innovative social entrepreneurship projects through:
expert mentoring in business modelling, marketing, financing, and project management,
providing international exposure and PR in key markets,
enabling access to international partners and markets, and
training entrepreneurs in key skill areas.
For more information, see
the m-Spark website
.